Modular Solution
In 2011, Pharmadule was acquired by Morimatsu Pharmadule Morimatsu in Sweden was established and successfully expanded its business afterwards from process modularization systems to facility modular solution. Pharmadule is a global leader in facility modular solution in the pharmaceutical and bioengineering industries.
Since its establishment in 1986, Pharmadule has delivered more than 80 production facilities in pharmaceutical and biopharmaceutical industries all around the world as well as completed more than 300 engineering designs and solution validations.
The combination of factory and process allows the unified consideration of process, operation, maintenance, safety, energy saving and other aspects of the requirements, which is more conducive to the optimization of the overall facility layout and production process. At the same time, fewer project communication interfaces are more convenient for clients to control project cost, quality, delivery time, safety and other aspects.
We have delivered projects to clients in more than 40 countries and regions around the world in facility modular solution. Morimatsu products are used by many leading pharmaceutical companies. Pharmadule and Morimatsu's integrated modular solutions of facility + process have set the benchmark in the industry.
Modular fabrication removes the critical parts of the project from the conditions on the project site to our off-site manufacturing base for construction and installation to ensure the fabrication of the facility, key process equipment and utility engineering system in a safe, clean environment.
Pharmadule-Morimatsu is focused in modular engineering fabrication in Pharmaceutical, BioPharma, Consumer Products industries. 75-80% of such projects are completed in our workshops.
Advantages of modular fabrication:
• Faster project delivery
• Reduced predictable risks of project implementation
• Overall turnkey solution
• Improve cost effectiveness
• Flexible solution
• High quality and GMP compliance
• Increases predictability
MODULAR DRIVERS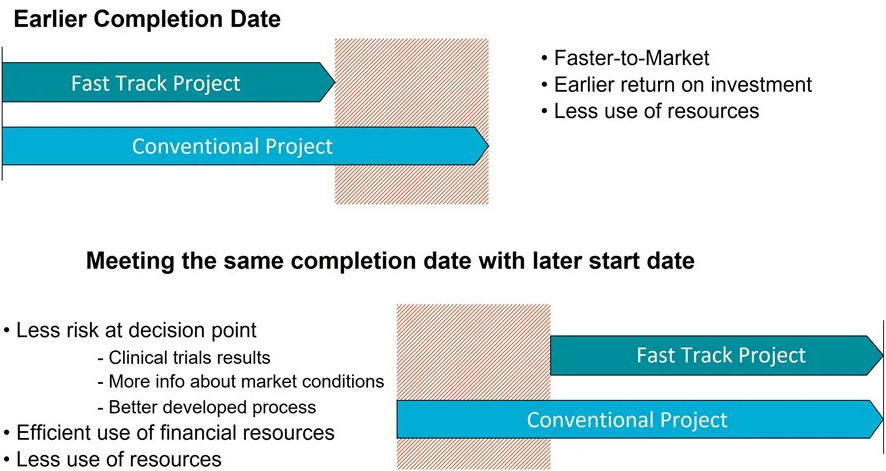 TIME TO MARKET
Modular off-site construction gives you a unique opportunity to reduce the delivery time for your manufacturing facility. The possibility to compress the schedule by working with different activities in parallel can save 3-12 months compared to conventional construction (depending on project).
Shorter time to market
This approach gives your investment a faster return on investment and a higher net present value.
You can also use the shorter delivery time to defer your investment decision giving you more time for process development thus avoiding changes due to process modifications, and still meeting your market demand and return on your investment.
For us it's a matter of pride to be able to deliver faster than others - continuing to deliver the values that Pharmadule has been recognized for over the years.
PREDICTABILITY
Building your new manufacturing plant in a fabrication workshop gives you an unmatched predictability.
Our well-proven delivery model, based on our modular concept and off-site construction under controlled conditions, will ensure the success of your project.
Predictability is key for a successful project
High predictability ensures that you get your new pharmaceutical manufacturing facility up and running on time. It ensures your critical process systems perform as specified and that you are able to deliver on your commitment to patients.
Every capital project is a business-critical decision and the ability to predict the outcome is of utmost importance.
For us predictability means you get what you expect and when you expect it.
OFF-SITE FABRICATION
Modular fabrication minimizes risks.Our staff has extensive experience from the pharmaceutical industry. They are highly trained in pharmaceutical engineering and perform the fabrication indoors under controlled conditions with rational and effective working procedures in an assembly line manner under controlled industrial conditions.
While the manufacturing facility is fabricated in the workshop, the site preparations and foundation works on site are finished and municipal services put in place. When the modular plant arrives, it is quickly assembled, commissioned and validated.
75-80% of your facility is finalized in our workshop. This means that the work is carried out in a safe and controlled environment, away from the weather challenges and not depending on local resources thus reducing the project risk.
Our approach to integrated qualification leverages our efforts in the workshop to a maximum, drastically reducing time spent on-site.
Our modular concept has been recognized to provide our clients with:
• Faster project delivery
• Lower risk
• Predictable implementation
• Greater flexibility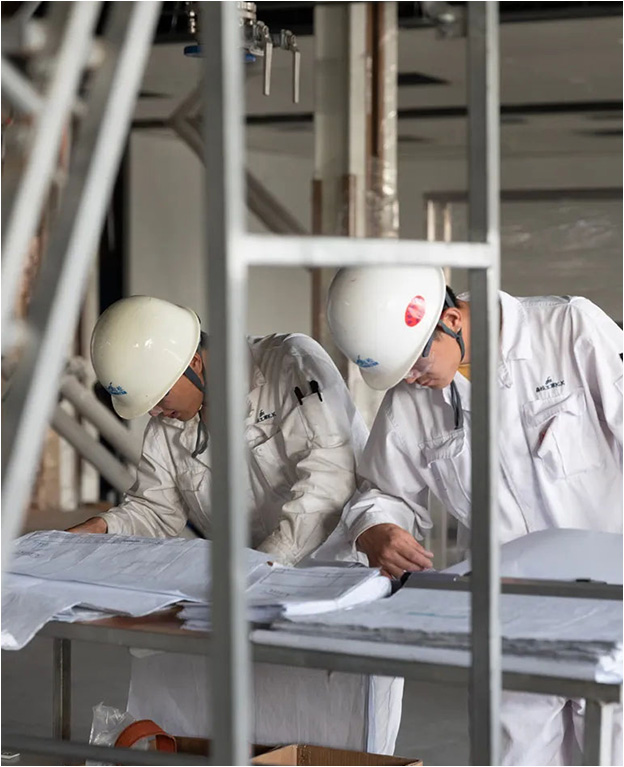 WORKSHOP INSTALLATION
After the modular steel frames have been blasted and painted, a concrete floor is poured to create a solid floor that absorbs loads and is comfortable to work on.
Then installation of piping and HVAC duct works starts, followed by other installations.
Wall panels are mounted and doors, windows and ceiling are installed.Process- and utility equipment are installed and systems can be test run in the workshop.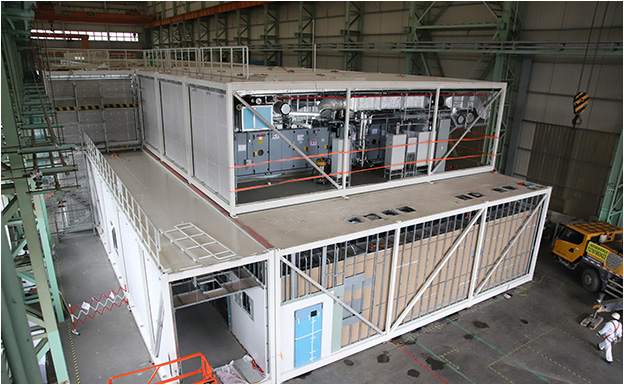 THE MODULAR CONCEPT - STEP BY STEP
Based on the experience from delivering more than 80 facilities - the Modular Way - Pharmadule has a well developed delivery process to ensure the results you expect - On Time and On Budget.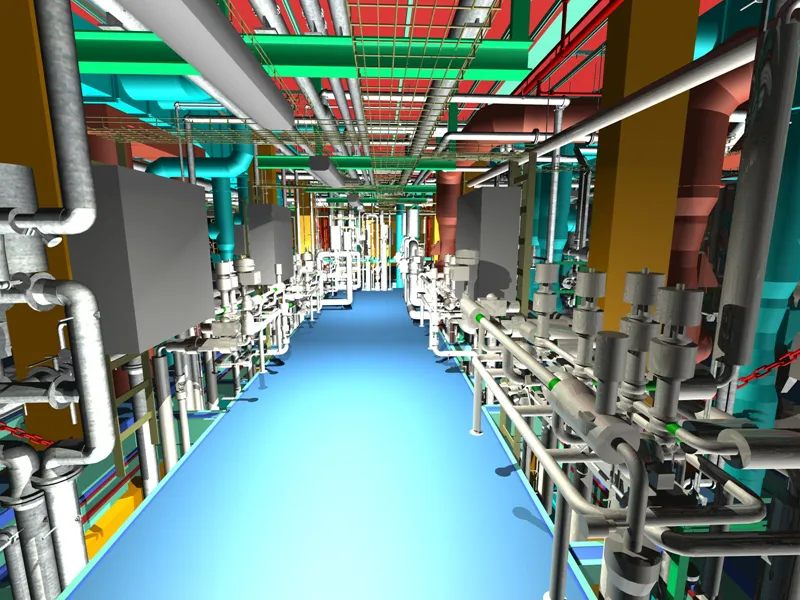 DETAILED DESIGN
In Detailed Design, all detailed specifications, shop drawings and installation drawings needed for fabrication and documentation of the facility are developed based on the approved Basic Design.
We finalize the 3D model (Building Information Modelling) with a single point of entry for all data for objects. Our integrated Enterprise Resource Planning (ERP) system allows full digital flow of engineering data throughout the project from start to end.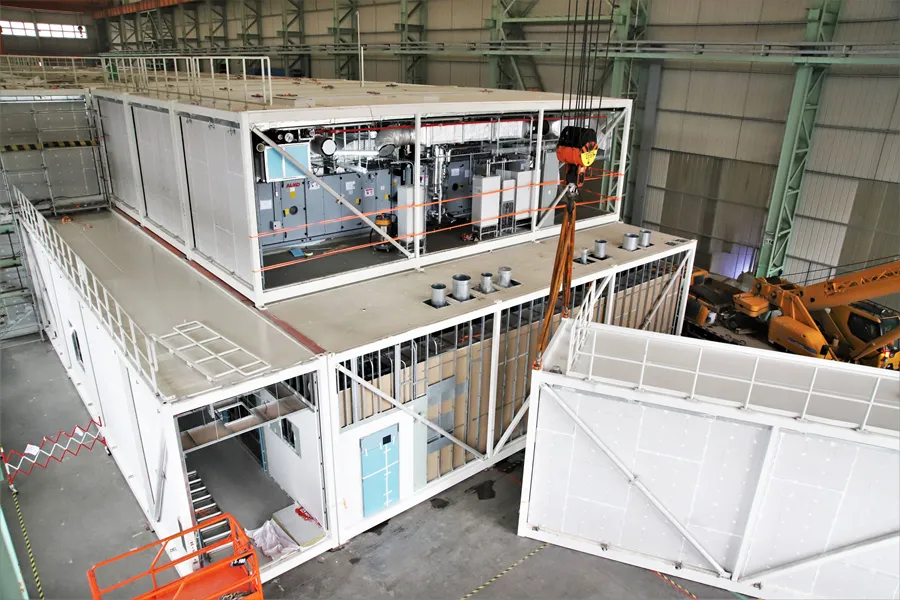 MODULAR FABRICATION
Fabrication of the modular building is performed indoors in the fabrication workshop. The fabrication follows rational and effective working procedures in an assembly line manner under controlled industrial conditions. Our staff has extensive experience from fabrication of pharmaceutical plants and are highly trained in pharmaceutical engineering.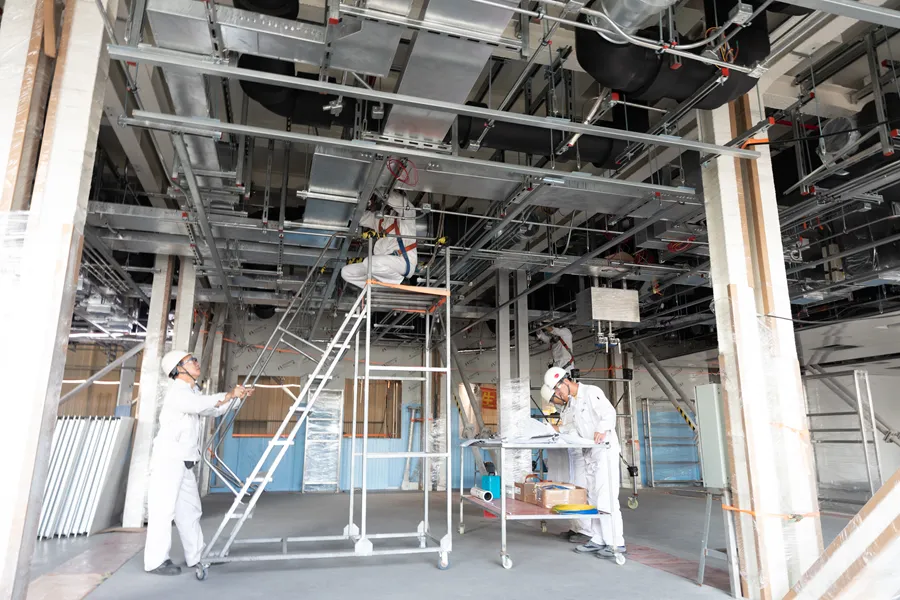 PROCESS & UTILITY INSTALLATIONS
Process- and utility equipment, piping and other important systems are readily installed in the modules. Since the modules are open frames installation can easily be done and equipment and material don't have to be maneuvered through doors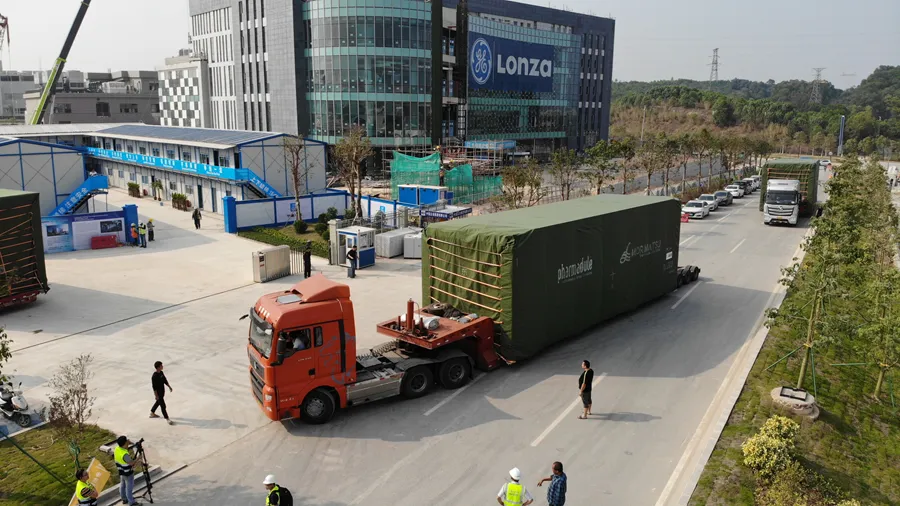 SHIPPING
Once the installation is completed the modules are prepared for shipping. Loose items are marked and packed separately. Spool pieces are bar code marked and shipped within the modules. Equipment is braced to avoid movement during transportation. Each module is shrink wrapped and covered by a tarpaulin. Shipping is normally done by truck and boat.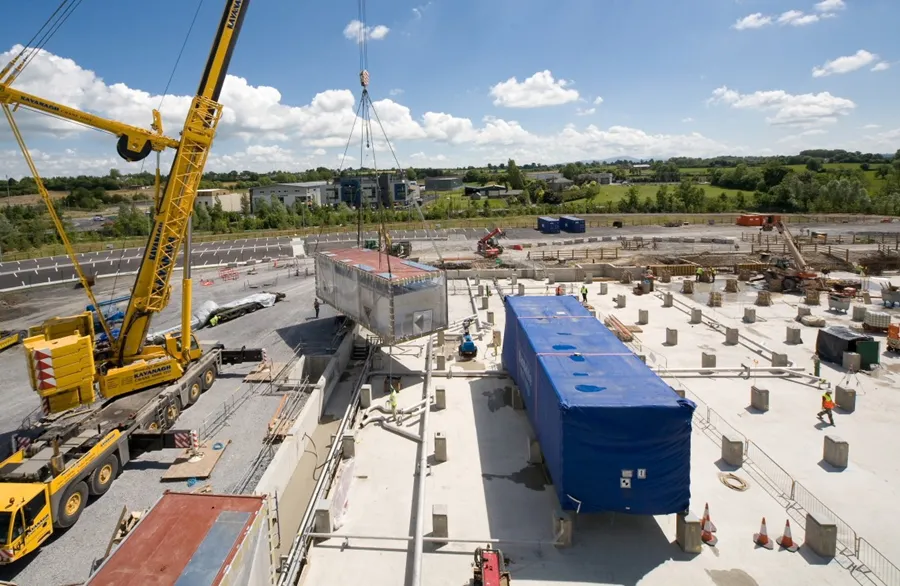 SITE ASSEMBLY
The modules arrive well protected to the site and are assembled on the prepared foundation. The complete building can be set in 1-14 days depending on size.
At the site, the modular units are interconnected and hooked-up to electrical power, water mains, sewage system and utilities.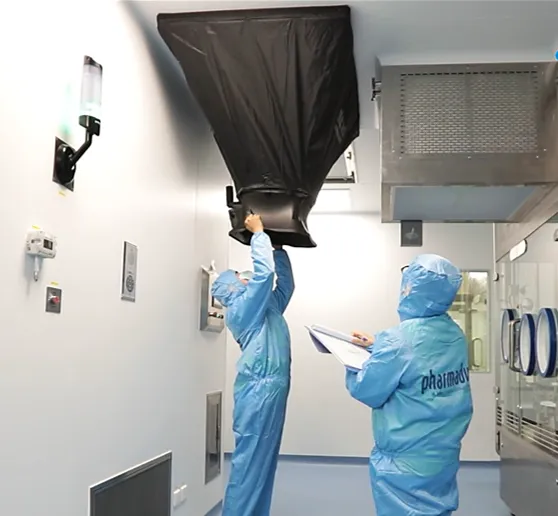 COMMISSIONING & QUALIFICATION
The commissioning and qualification activities start as soon as the modules has been set to ensure your facility will be up and running according to schedule.
Commissioning and qualification are carried out according to a Commissioning and Qualification Master Plan to secure that the systems work within defined system boundaries and in the final operating environment.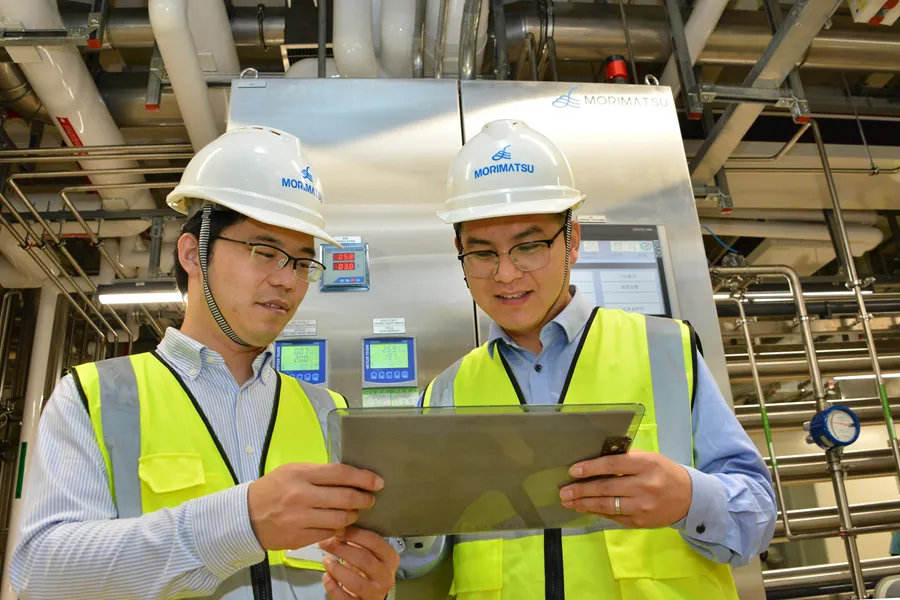 HANDOVER & START-UP
When the project is completed we make a walk-through and final inspection together with the client and the as-built final documentation is handed over in the Turn Over Package (TOP).