Core Equipment
Bioreactor
Morimatsu bioreactor/fermenter system includes a whole series of products, such as a benchtop bioreactor/fermenter, a pilot-scale bioreactor/fermenter system and a large-scale production bioreactor/fermenter. By providing an integrated one-stop solution from laboratory to commercial scale, it meets client requirements for the technical development and commercial production of cell cultures and microbial fermentations.
Morimatsu's project execution team, comprising engineers from Asia, Europe and North America, provides high-quality solutions for our clients. We incorporate an aseptic design concept into our products to establish a high-quality cell culture/microbial fermentation system. We can provide clients with early-stage experimental services in our clean laboratory and supporting facilities, which help them to efficiently scale up to the industrial scale for their products.
Benchtop Reactor System
The benchtop reactor system is equipped with industrial PLC, E&I components, and a commercial control configuration platform to control multiple equipment and realize remote monitoring and data collection. Great flexibility allows it to be applied to single or parallel testing. Optional system volumes range from 1L to 10L and 2 to 16 units can be connected in parallel for both batch and continuous perfusion cultures. This shortens production cycles, improves efficiency, and reduces costs.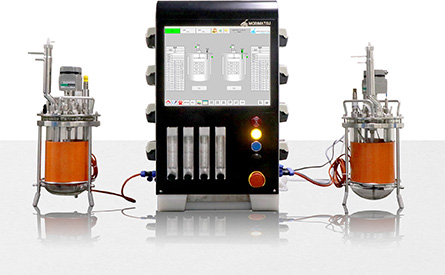 Pilot-scale and Commercial Bioreactor/Fermenter Systems
Pilot-scale and commercial production-scale bioreactor/fermenter systems integrate bioengineering technology with automation, modular design, and intelligent production to create a full series of stainless steel 10L-300KL (and above) fermentation systems and 10L-20KL bioreactor systems.