Engineering Design
When you are planning for a new manufacturing facility, upgrade of process equipment or expansion, it all starts with the process design.
Understanding the process and being able to translate it into a cGMP compliant facility design is key.
Once the manufacturing process is determined our project design & engineering process starts. We will mature the project design through Conceptual Design, Basic Design and Detailed Design. Our design process uses state-of-the-art design softwares and Building Information Management (BIM) systems to ensure a stringent design process.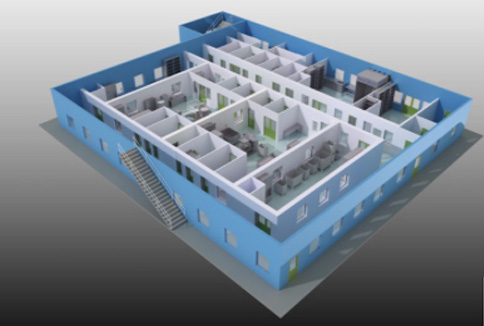 Conceptual design
Based on the User Requirement Specification (URS) we conceptualize your project. During the Conceptual Design we develop Process Flow Diagrams describing the unit operations in the manufacturing process. Once the process is defined our process architects start the layout development, including area classification, equipment arrangement and personnel- and material flows.
A draft project execution approach is developed together with a delivery schedule and a price estimate.
We help you identify risks early securing a predictable project execution and address flexibility to guarantee that your best operating criterias will be met. Properly executed this phase provides the key to a cost-effective and successful facility project implementation.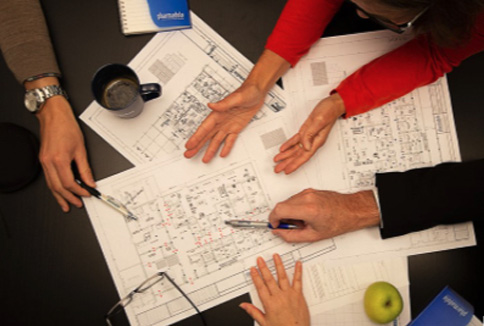 Basic design
In the Basic Design the design is taken to the next level. PI&Ds, providing more details on process, instrumentation and utilities are developed together with detailed specifications and drawings for each design discipline. This is all included in the BIM (Building Information Modeling) 3D model. A detailed project execution plan and a constructability study are developed.
The time schedule is further detailed, as well as the procurement plan to support and control the project execution.
Throughout the design process, we will have multiple reviews to make certain that the design satisfies the requirements.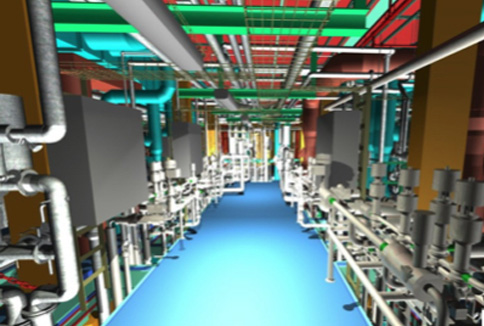 Detailed design
In Detailed Design, all detailed specifications, shop drawings and installation drawings needed for fabrication and documentation of the facility are developed based on the approved Basic Design.
The time schedule and the procurement plan are further detailed to control the project execution.
We finalize the 3D model (Building Information Modelling) with a single point of entry for all data for objects. Our integrated Enterprise Resource Planning (ERP) system allows full digital flow of engineering data throughout the project from start to end.