Digital operation
Create the engineering and software twin stars
Morimatsu-featured digitalized services
Morimatsu takes the lead in implementing the concept of "digitalized service" in the industry by relying on its expertise in process production, validation system, and overall engineering solutions in the biopharmaceutic industry. Morimatsu co-builds "digitalized facility" with its customers and provides full life cycle, digitalized services including schematic design, project delivery, post-operation, and maintenance. Based on our customer needs, we provide digitalized applications and services with Morimatsu features.
Full life cycle digitalized services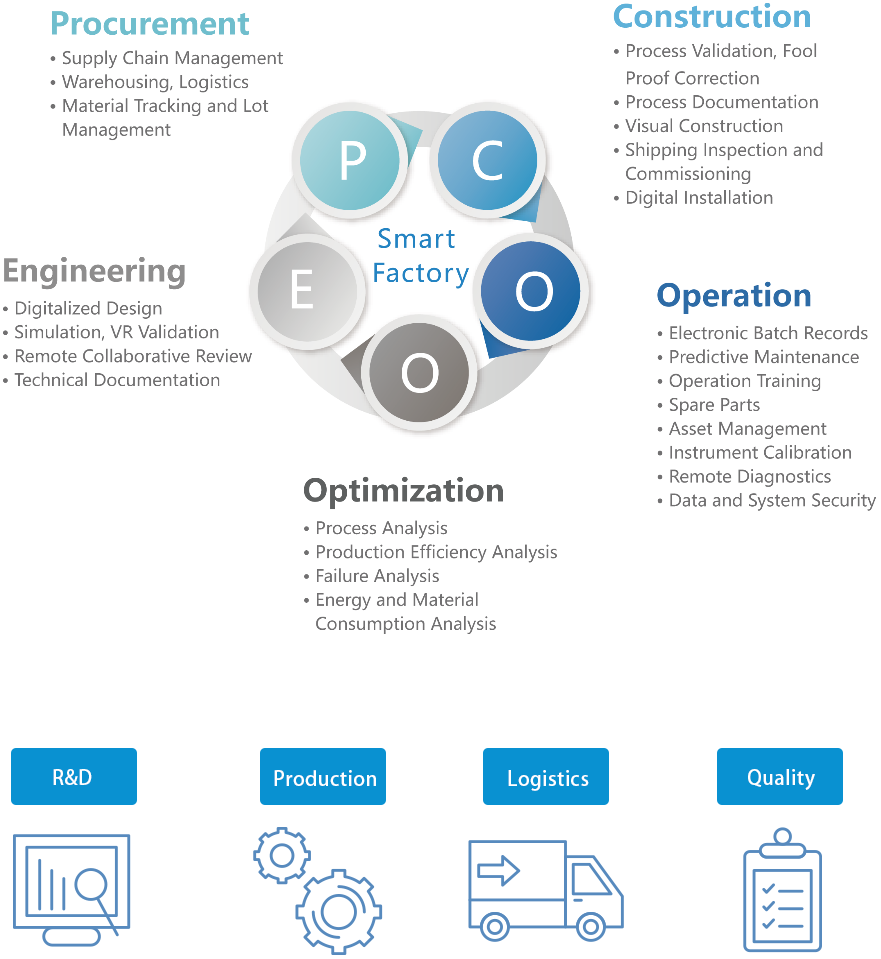 Co- existing virtual & real plants co-exist
Morimatsu utilizes various digitalized technologies to realize the two-way connection and information exchange among the virtual plant and the automatic control system, weighing system, reporting system and other systems, bringing its customers more visualized, transparent, real-time, easy to control as well as other multiple experiences in their facilities operations.
Functions introduction
Simulation:
Shorten the product design cycle during the design demonstration, improve the feasibility and success rate; The reliance on physical plants can be reduced in operational rehearsals and training, thereby reducing training costs and reducing risks and errors.
Monitor & control:
Via the visualized equipment running operation, status and faults monitor & control enables identification of defects and location of faults intuitively. First-time response can be made to ensure the safety of personnel. Real time respond can be achieved through remote and synergetic teamwork.
Assessment & forecast:
Forecast and guide decision-making; Reduce downtime, mitigate risk, avoid catastrophic damage, and improve product quality.
Optimization:
Improve product development and system efficiency; Save resources, reduce energy consumption, reduce production costs.